just think that you are pretty sick,
cant even breath but still
you are at work,
..is because you have so much work scheduled so you cant take a day off.
trying to 'work'...
you cant stop wondering,
if your head will stop aching if you hit it with a keyboard...
than someone walks in, asking 'are you missND?'
well, yes i am...
he is holding a bunch of flowers, my favourite one, daisies.
a huge bunch of daisies.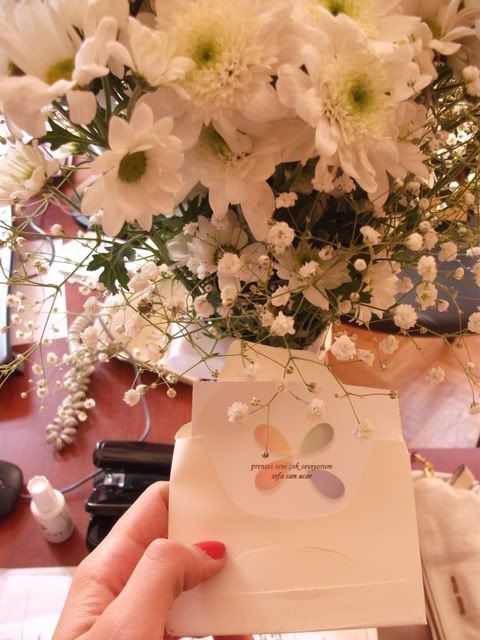 i rapidly sign the paper and take a look at the card attached on the ribbon.
i never wondered who sent it,
i just wondered what he wrote...
yeah,
my boyfriend is the best boyfriend ever!!!
coz it is enough for me to hear him saying 'i love you princess'...
i love you, too!!!
...and you are the princess...
=)
ps. to my bf:
i know i look terrible, and this shot is terrible than me. and i know you dont care how terrible i look
coz you loved me even with that crazy pinky-orange-balck hair that i used to have =)
but i really cant breath so...well...i cant even smile...
i hate dust!
sorry that i used to throw wool blankets on you, to make you sneeze. =)
but you looked cute sneezing and trying to diss me while sneezing, how could i help myself... =)
but it wont happen again. i promise.