to my readers, you wanted, you insisted on it...
so here's a brand new post!
my life is a little bit complicated in these days, thats why i just share my time with just me myself.
i need to rest for a while.
i dont answer phone calls nor reply any of the messages i recieve.
i'm sorry.
i'll write another post and tell you what was and ish on my mind during that days.
so i'm passin it for now...
well what was i saying? yeah you insisted on...=)
here's what i looked like yesterday.
black and black and black... nothing new with the winter session.
acid wash maybe. this legging is one of my new findings.
you deserve better photos but thats the best i can do for right now.
still couldnt buy myself a camera, because i'm terribly broke, penniless...
and bad quality photos are the killers of my source of inspiration...
that's pretty awful coz i just sit at home all day long and do nothing but eat, eat and eat...
and watch edward norton movies again and again... ( aarrghhh <3 )
then i think, i'm just eating too much... junk food especially.
it is a killer, i was sick because of it yesterday. threw up all night...yak!
maybe it was because of the 3 pills of pain killers in one time... i dont know...
well whatever =)
just take care of yourself, and dont eat too much junk food...
and dont take too much pain killers...
and beware of the diarrhea...
(??!!)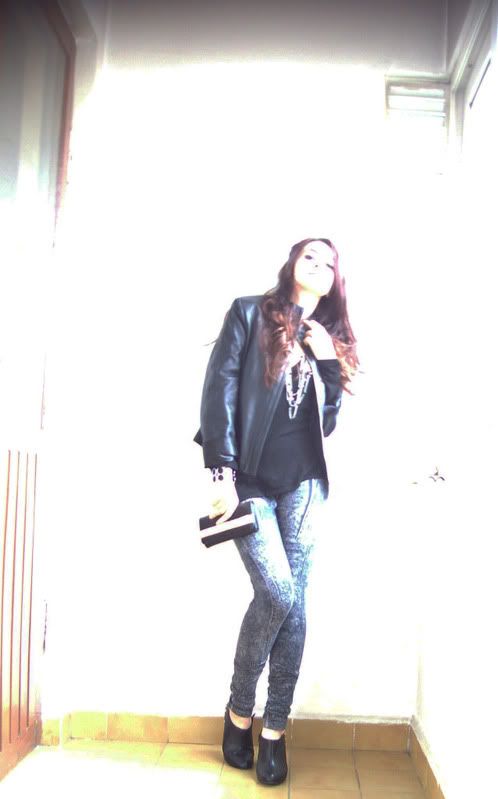 leather jacket / god knows from where
black knitwear / vakko
acid wash leggings / zara
shoes & clutch / gift (from coll) =)
necklace / koton
bracelet / from a local store